About the ABF

Events

States & Clubs

System Cards

Members

Youth Bridge

Newsletter

Directors

Links

Site Map
2009 PABF
Under 26 PABF Champions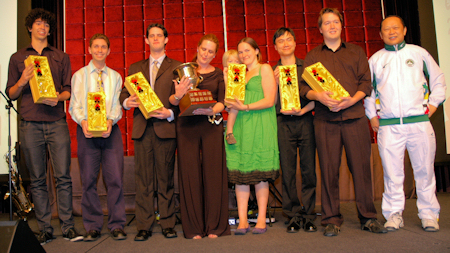 Adam Edgtton, Leigh Matheson, Justin Howard, Cathy Mill (NPC) Ally Morris with Auryn, Hoi Ming Chan and Peter Hollands.
The Under 26 Australian team (pictured above) won the 2009 PABF Under 26 championship which was held in Macau in June.
In the Under 21 PABF Championship, the team represented by Shane Harrison, Samuel Schulz, Laura Ginnan, Stephen Williams, Nathan Howard, Ellena Moskovsy and Cathy Mill (NPC) finished 5th.
Results can found on the 2009 PABF Championship Website.