ABF Youth Triathlon, Melbourne, Dec 2-4, 2011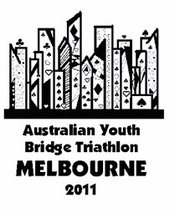 The 2011 Youth Triathlon comprises of 3 events: teams, pairs and an individual to determine the Australian Youth Triathlon Champion.
The triathlon is an event that tests a players ability to play with different partners and perform when playing different scoring methods.
Come support this event as it is in Melbourne for the first time ever! There will be great prizes and the overall winner of the event, if eligible, will receive guaranteed entry into the 2012 Australian Youth Butler with a partner of their choice!!!
Format
2x sessions of teams
2x sessions of matchpoint pairs
1x session of individual where you play with different partners
Dates
December 2-4, 2011
Location
Waverley Bridge Club
21B Electra Ave Ashwood Vic 3147
Schedule
Friday: 6pm- welcome dinner and crazy bridge
Saturday: 10 am 2x sessions of teams, 1x session of pairs
Sunday: 10 am 1x session of pairs, 1x session of individual
The event will conclude around 4pm on the Sunday.
Regulations
Tournament regulations will be available online by 31/10/11.
Cost
$30 if you enter on or before October 31, $40 if you enter after this
Eligibility
This event is open to anyone born after January 1, 1971.
Accommodation and Assistance
Billets can be found on request or see www.matthewflindershotel.com.au/accommodation.html for affordable options.
Financial assistance for this event can be requested from friends of youth bridge: foyb@abf.com.au
Registration
Please copy the following into the body of an email, fill in the relevant details and email to vicyouthbridge@gmail.com
Name
DOB
Email
ABF no.
Phone
Are you coming to the Welcome dinner and Crazy Bridge
Do you have a partner for the pairs, if so who?
Do you have team mates for the teams? If so who?
Would you like to have a billet organised for you?
Shirt size
For further information contact vicyouthbridge@gmail.com