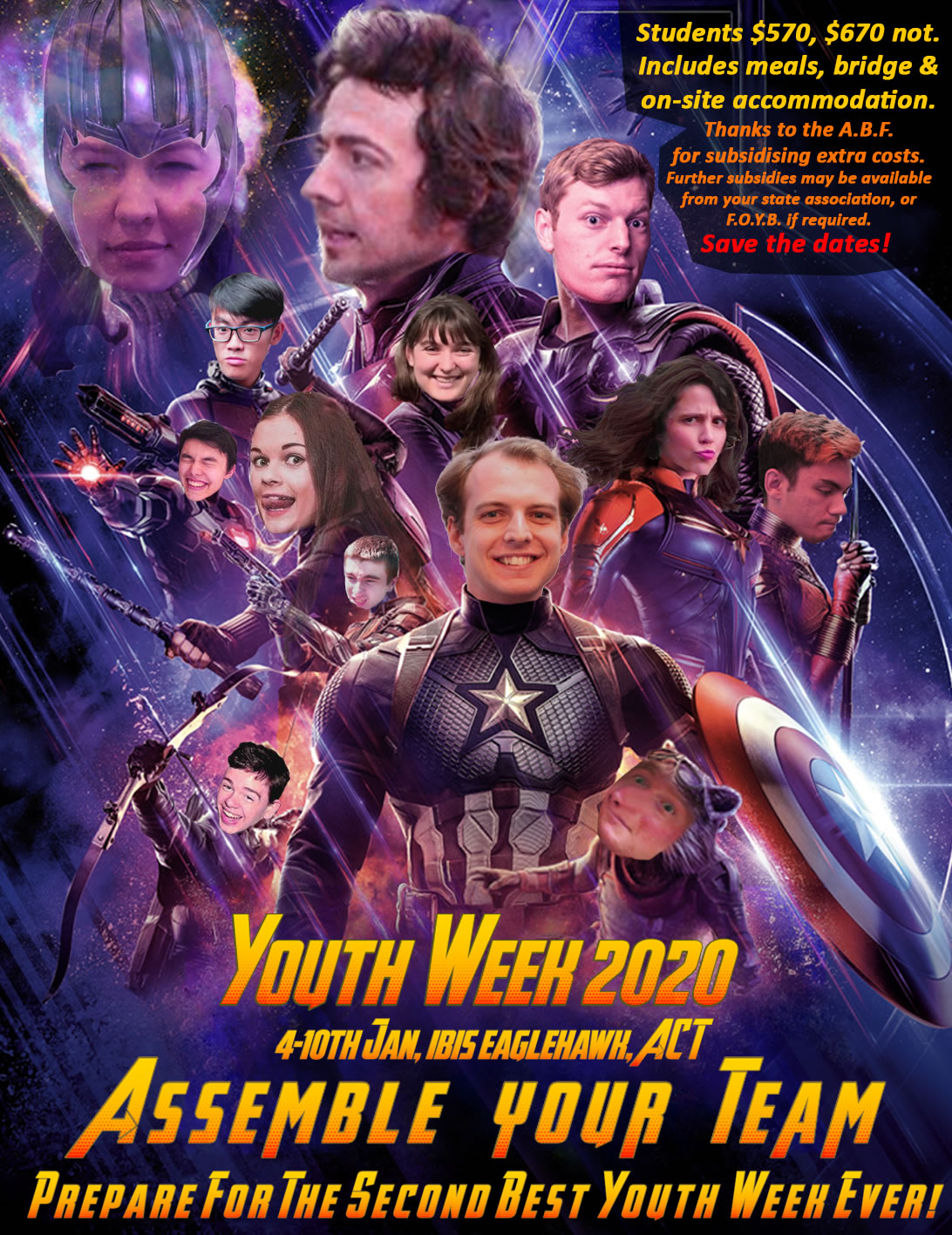 • Accommodation & Playing Area
Eaglehawk Holiday Park (Saturday 4th Jan accommodation only)
Ibis Styles Canberra Eaglehawk (Sunday 5th – Friday 10th January)
• Cost
$570 full time students, $670 everyone else*, which includes meals, on-site accommodation and bridge.
Canberrans staying offsite and players playing only a portion of the event will pay different rates, email:
*If you are staying for the whole program, there is a $20 discount if you pay by October 31st.
• Payment Details
Payments should be made by bank transfer to:
Account Name: Summer Festival
BSB: 082 968
Account Number: 470 614 111
Reference: "YW(your ABF Number)" example : "YW759181"
• Schedule
Check in by 1 pm Saturday 4th Jan. Play starts at 2 pm.
Pairs: 2 pm Sat – Sun night
Teams: 11 am Mon – Tue night
Australian Junior Team Selection & Side Events: 11 am Wed – Fri
• Eligibility
Youth Week 2020 is open to all players born in 1985 or later (under-35). To qualify for the Australian Junior Team Selection Butler event, players must satisfy eligibility requirements including being born on or after 01/01/1995. International participants are very welcome. Free ABF membership can be arranged for anyone under 25. Players under 18 years old are required to have a guardian for the whole event.
• Transportation & Lifts
Can you offer, or will you be needing a lift? Enter your details here.