2003 Spring Nationals, Hakoah Club, Sydney
Nov . 13-20
The winners of the Datum Medals were Robert Krochmalik - Bobby Evans (Open) and Valerie Cummings - Candice Feitelson (Women).
Spring Nationals Team
M McManus, F Budai, E Barnes, C Diment, E Ramshaw, I Dahler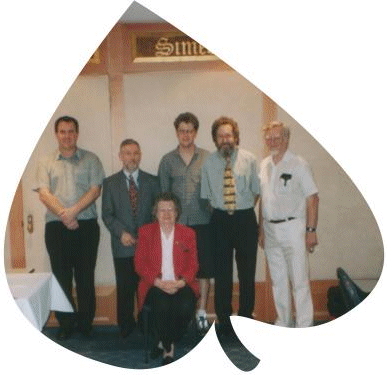 Results (20/11/03)
Bulletins (25/11/03)
Photos (23/11/03)
Supplementary Regulations
(16/11/03)
Brochure including all tournament details
(13/9/03)
Entry Forms
MS Word format (can be filled in and emailed back)
PDF format (for printing)
Accommodation (9/10/03)
Enquiries for the 2003 Spring Nationals should go to Frank Budai at budai@all.com.au.
National GNOT final
Past Spring Nationals Tournaments
| | |
| --- | --- |
| | You will need the Adobe Acrobat(R) reader to view the PDF file format. It is available free of charge for most operating systems from the Adobe Web site. |