Australian National Championships (ANC)
Esplanade Hotel
South Terrace
Fremantle
July 6 - July 21, 2007

2007 Results
2007 Bulletins
2007 Photos (BAWA website)
Records of the finals of the ANC for Open, Women, Seniors and some Youth as prepared by Tim and Margaret Bourke. (PDF format)
1-10 | 11-20 | 21-30 | 31-40 | 41-50 | 51-60
ANC Website

Entry Forms and Fees for State/Territory Associations
ANC Teams - Teams, Draw, System Summaries
Enter the ANC (Matchpoint) Pairs - Supplementary List
To find more details on the 2007 ANC go to the BAWA website at:
http://www.bawa.asn.au/anc 2007/mainpage.html.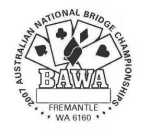 A special postmark will be used on all mail from the Fremantle Post Office for the two weeks of the 2007 Australian National Championships. Click here for details.
2007 ANC Flyer
2007 Seniors' Butler Pairs Flyer


NB. The 2007 Seniors' Butler Pairs will be a three stage event held concurrently with the Open and Women's Butler Pairs.
---
2007 ANC Teams
---
2007 ANC Entry Forms and Fees for State/Territory Associations :
All information for States and Territories relating to entry forms and fees including System Exception and Yellow Defence forms can be found in the document below.

MS Word version
PDF version
---
2007 ANC (Matchpoint) Pairs - Supplementary List

The ABF Tournament Committee has decided to make spare places in the ANC pairs available to any pair of players from the same State/Territory. It is likely that a few places will be available in each of the categories of Open, Women, Senior, Mixed, Youth. Players must enter on the supplementary list.......and pay the entry fee of $80 per pair before play commences. Entries close on Thursday 12 July.

To enter click here:
ANC Pairs Supplementary List Entry Form
Display ANC Pairs Supplementary List Entries
| | |
| --- | --- |
| | You will need Adobe(R) Reader(R) to view the PDF file format. It is available free of charge for most operating systems from the Adobe Web site. |